Ingredients
For the cake donuts
1 large Pete & Gerry's Organic egg
1/2 cup full-fat sour cream
1/2 cup light brown sugar, packed
2 1/2 tablespoons unsalted butter, melted
1 cup gluten-free all purpose flour
1 teaspoon baking powder
1/2 teaspoon salt
4-5 cardamom pods
3 cloves
1/2 cinnamon stick or 1/2 teaspoon cinnamon
Pinch of nutmeg
For the glaze
1 black tea bag
1/4 cup milk of choice
1/4 cup water
1/2 cup confectioners' sugar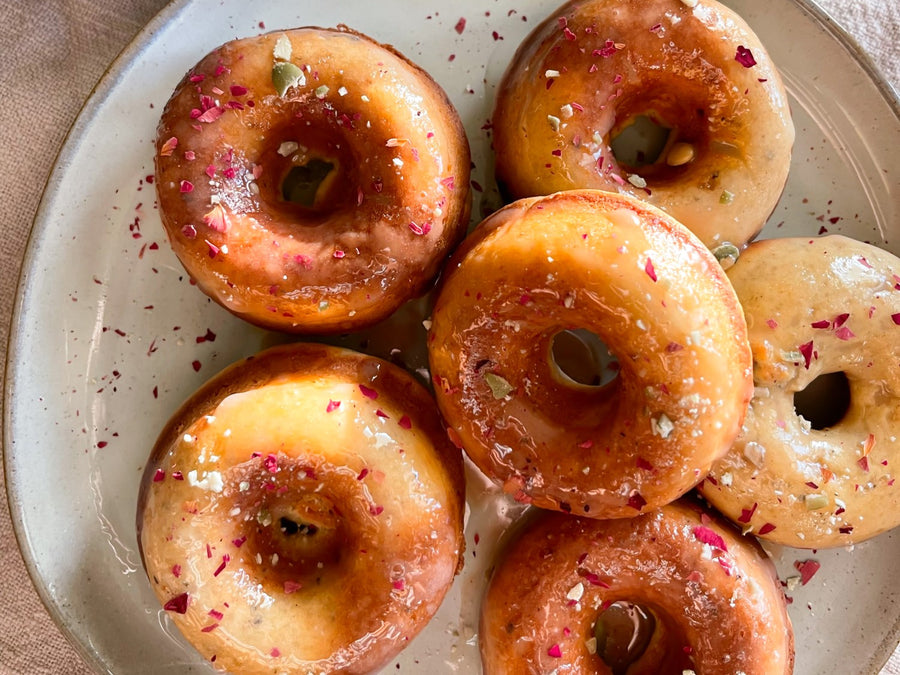 New Recipes
Seasonal
Sweets
Prep Time: 15 minutes
Cook Time: 12-14 minutes
Yield: 6 mini donuts
New Recipes
Seasonal
Sweets
Prep Time: 15 minutes
Cook Time: 12-14 minutes
Yield: 6 mini donuts
Ingredients
For the cake donuts
1 large Pete & Gerry's Organic egg
1/2 cup full-fat sour cream
1/2 cup light brown sugar, packed
2 1/2 tablespoons unsalted butter, melted
1 cup gluten-free all purpose flour
1 teaspoon baking powder
1/2 teaspoon salt
4-5 cardamom pods
3 cloves
1/2 cinnamon stick or 1/2 teaspoon cinnamon
Pinch of nutmeg
For the glaze
1 black tea bag
1/4 cup milk of choice
1/4 cup water
1/2 cup confectioners' sugar
From the recipe author: Each bite of these Masala Chai Cake Donuts is perfectly soft, cakey and topped with a creamy glaze! They are made with a mix of whole spices, brown sugar, and gluten free flour, and organic eggs, oven-baked, and dipped in a sweet coating flavored with real chai. If you're looking for fall recipes without pumpkin spice, these little treats are the perfect way to bring warm and cozy flavors to your table.
To make the cake donuts
Preheat oven to 350F. Spray 6-mold mini donut pan with non-stick cooking spray and set aside.

Whisk together the egg, sour cream, brown sugar, and butter in a large bowl. 

Add flour, baking powder, and salt and gently mix until batter is uniform, avoiding overmixing.

Use a mortar and pestle to grind the whole spices to a powder, removing cardamom shells or any other large pieces. Sprinkle into batter and stir.

Pipe batter into the prepared donut pan and bake for 12-14 minutes. Let cool while you make the glaze.
To make the glaze
In a small pot, bring water and milk to a boil. Add the tea bag, then turn off the heat. Cover the pot with a lid and let steep for 5-7 minutes, then remove tea bag and let cool.

Mix 1/2 tablespoon of the steeped tea with 1/2 cup of confectioners' sugar until sugar completely dissolves. Adjust with more tea or sugar until you reach your desired consistency.

Drizzle the glaze over the donuts and serve.