Ingredients
For the yeasted dough
1/2 cup (1 stick) unsalted butter
1/2 cup high-quality eggnog, lightly warmed
1/2 cup whole milk, lightly warmed
2 1/4 teaspoons (1 package) active-dry yeast
1/2 cup granulated sugar
2 large Pete & Gerry's eggs, room temperature
3 cups plus 2 tablespoons bread flour
1/2 teaspoon kosher salt
For the filling
1/4 cup (1/2 stick) unsalted butter, softened to room temperature
1 cup packed brown sugar
2 tablespoons ground cinnamon
1/4 teaspoon kosher salt
For the eggnog cream cheese icing
1/4 cup (1/2 stick) butter, softened to room temperature
4 ounces full-fat cream cheese, softened to room temperature
1 1/2 cups powdered sugar
1/4 cup high-quality eggnog
2 teaspoons vanilla extract
Serv. Size: 1 roll, Servings: 9
Calories 660
Fat Cal. 250
Total Fat 28g (43% DV)
Sat. Fat 17g (85% DV)
Trans Fat 1g
Cholest. 120mg (40% DV)
Sodium 270mg (11% DV)
Total Carb. 95g (32% DV)
Fiber 2g (8% DV)
Sugars 58g
Protein 10g
Vitamin A (20% DV)
Vitamin C (0% DV)
Calcium (10% DV)
Iron (15% DV)
Vitamin D (6% DV)
Percent Daily Values (DV) are based on a 2,000 calorie diet.
For more information about how we calculate our nutritional content and to read our nutritional disclaimer, please check out our Recipe Nutrition Facts blog post.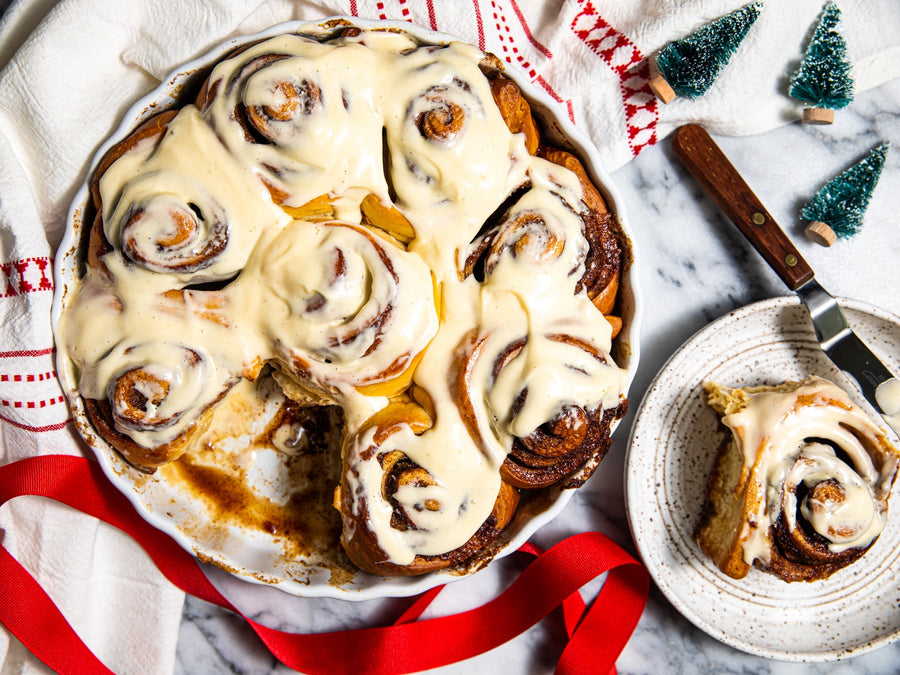 Prep Time: 30 minutes
Cook Time: 30 minutes
Yield: 9 rolls
Prep Time: 30 minutes
Cook Time: 30 minutes
Yield: 9 rolls
Ingredients
For the yeasted dough
1/2 cup (1 stick) unsalted butter
1/2 cup high-quality eggnog, lightly warmed
1/2 cup whole milk, lightly warmed
2 1/4 teaspoons (1 package) active-dry yeast
1/2 cup granulated sugar
2 large Pete & Gerry's eggs, room temperature
3 cups plus 2 tablespoons bread flour
1/2 teaspoon kosher salt
For the filling
1/4 cup (1/2 stick) unsalted butter, softened to room temperature
1 cup packed brown sugar
2 tablespoons ground cinnamon
1/4 teaspoon kosher salt
For the eggnog cream cheese icing
1/4 cup (1/2 stick) butter, softened to room temperature
4 ounces full-fat cream cheese, softened to room temperature
1 1/2 cups powdered sugar
1/4 cup high-quality eggnog
2 teaspoons vanilla extract
Serv. Size: 1 roll, Servings: 9
Calories 660
Fat Cal. 250
Total Fat 28g (43% DV)
Sat. Fat 17g (85% DV)
Trans Fat 1g
Cholest. 120mg (40% DV)
Sodium 270mg (11% DV)
Total Carb. 95g (32% DV)
Fiber 2g (8% DV)
Sugars 58g
Protein 10g
Vitamin A (20% DV)
Vitamin C (0% DV)
Calcium (10% DV)
Iron (15% DV)
Vitamin D (6% DV)
Percent Daily Values (DV) are based on a 2,000 calorie diet.
For more information about how we calculate our nutritional content and to read our nutritional disclaimer, please check out our Recipe Nutrition Facts blog post.
Nutty brown butter and eggnog cream cheese frosting take these cinnamon rolls from a Sunday brunch ritual to a Christmas morning tradition that's special enough to pass down from generation to generation. But seriously, with a few splashes of creamy, luscious eggnog and homemade brown butter baked right into the fluffy yeasted dough, you'll have yet another reason to look forward to the holidays each year (and an excuse to make another batch of homemade eggnog).
To make the yeasted dough
In a small saucepan over medium-low heat, allow butter to melt through completely and brown; the entire process takes about 5-8 minutes. You will hear the butter bubbling as it cooks, then butter will turn golden brown and have a nutty aroma with brown bits at the bottom. Once achieved, remove from heat and set it aside to cool down.
Place eggnog and milk into a microwave-safe vessel and warm together for about 45-50 seconds. Liquids should be between 100-110F for an ideal temperature. If the liquid is too hot, it can kill the yeast, so allow your liquid to cool down to achieve the desired range if needed.
To the bowl of a stand mixer, add yeast, sugar, and warmed eggnog/milk. Allow mixture to sit together for about 10 minutes until you see bubbles and foam on the surface.
In the same bowl, add in cooled brown butter and eggs. Attach dough hook onto stand mixer, then add in flour and salt. With mixer on medium-low speed, knead mixture until it begins to come together into a smooth and soft dough, about 5-6 minutes.
Shape the dough into a ball and place into a lightly greased bowl. Cover bowl with plastic wrap or a clean linen and let dough rise in a warm environment until doubled in size, about 1 1/2 to 2 hours.
To assemble the rolls
Once dough has risen, punch dough down and turn out onto a lightly floured surface. Roll out dough into a rectangle (about 15" by 20") with the longer side facing you. Use a little extra flour if dough is sticking.
Use your hands to spread the softened butter over the dough and then sprinkle/spread brown sugar, cinnamon, and salt evenly over the butter, leaving a 1 inch border at the top and bottom of the rectangle.
Roll the dough into a tight log starting with the longest side furthest from you. Pinch seams of dough to seal. Cut the log crosswise into 9 equal slices using a sharp knife. Place cut rolls into a large baking pan and cover with plastic wrap. If making the rolls on the same day, keep rolls out and let rise for another 1 1/2 hours. Skip the next step (step 4).
If making the next day, transfer covered rolls into the refrigerator to sit overnight. Once ready to bake, remove rolls from refrigerator and let sit out to reach room temperature and rise slightly for 1 to 2 hours before baking.
Preheat oven to 350F. Remove the plastic wrap and bake rolls until lightly golden brown, about 30 minutes. While cinnamon rolls bake, prepare icing.
To make the icing
Using an electric mixer, beat the butter and cream cheese together until light and fluffy, about 3-5 minutes. Add in powdered sugar and continue beating until smooth. Slowly add in eggnog along with vanilla extract, mixing until everything is fully incorporated. Once rolls are done, immediately spread icing over rolls and serve. Enjoy!
Farm Team Tips
Active-Dry vs Instant Yeast: While active-dry yeast is preferred for this recipe (so that you can be sure your yeast is alive before incorporating it into the dough), you can use instant yeast if that's what you have available. To do this, simply combine the yeast with the dry ingredients and skip the first rise, only allowing the dough to proof just once before baking.
Bread vs. All-Purpose Flour: Bread flour has a higher protein content than all-purpose flour. More protein in the flour means more gluten. More gluten in the yeast dough means a really nice, tender, and fluffy cinnamon roll. Bread flour can be found in almost every grocery store, but if needed, you can use all-purpose flour as a direct substitute.
Make sure your liquids are warm, but not hot: Your liquids will need to be between 100°-110°F to activate with the yeast. If your liquids are too hot, they can kill the yeast and prevent your dough from rising. If you don't have a thermometer, touch the liquid with your finger. It should be warm like a baby's milk bottle and not scalding.
Make sure brown butter has cooled: The recipe calls for this to be done first and then set aside to give it time to cool down. Again, making sure none of your ingredients are too hot is the key to success!
Room temperature ingredients: The butter (for both the filling and icing), the eggs, and the cream cheese (for the icing) all need to be softened to room temperature. Take them out 1-2 hours before you begin. In a pinch, you can place your eggs into a bowl with warm water to speed up the process.
Spread the butter/rub in the brown sugar: When it comes to the filling, you may find some recipes advise to mix together the butter/sugar/cinnamon mixture. However, spreading the butter onto the dough first and then rubbing the brown sugar into the butter along with the cinnamon and salt keeps the butter from melting too much.
Can this recipe be made ahead? Absolutely! After cutting the rolls, simply place them into a large baking dish covered with plastic wrap. Then transfer them into the refrigerator to "rest" overnight. We recommend that you refrigerate them for no longer than 24 hours while unbaked.