Ingredients
For the Baharat-Spiced Sugar
1 1/2 teaspoons sweet paprika
1 teaspoon freshly ground black pepper
3/4 teaspoon ground cumin
1/2 teaspoon ground coriander
1/2 teaspoon ground cinnamon
1/4 teaspoon ground cloves
Pinch of ground cardamom
Pinch of ground nutmeg
1/3 cup granulated sugar
Alternate cinnamon and sugar coating, optional (see notes)
For the Sufganiyot
2 1/3 cups (304g) all-purpose flour
1 packet (2 1/4 teaspoons) dry active yeast
1/2 cup (113g) whole milk, luke warm
1/4 cup (57g) butter, softened
2 large (100g) Pete & Gerry's eggs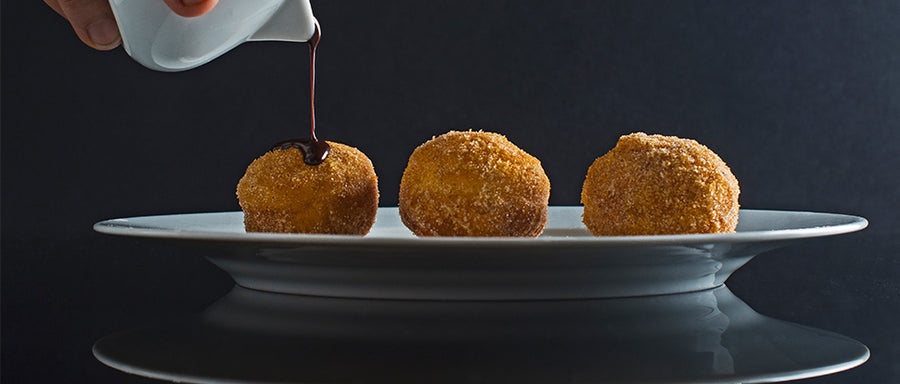 Prep Time: 60 minutes
Cook Time: 20-30 minutes
Yield: 6 servings
Prep Time: 60 minutes
Cook Time: 20-30 minutes
Yield: 6 servings
Ingredients
For the Baharat-Spiced Sugar
1 1/2 teaspoons sweet paprika
1 teaspoon freshly ground black pepper
3/4 teaspoon ground cumin
1/2 teaspoon ground coriander
1/2 teaspoon ground cinnamon
1/4 teaspoon ground cloves
Pinch of ground cardamom
Pinch of ground nutmeg
1/3 cup granulated sugar
Alternate cinnamon and sugar coating, optional (see notes)
For the Sufganiyot
2 1/3 cups (304g) all-purpose flour
1 packet (2 1/4 teaspoons) dry active yeast
1/2 cup (113g) whole milk, luke warm
1/4 cup (57g) butter, softened
2 large (100g) Pete & Gerry's eggs
Sufganiyot - small, round fried doughnuts - are typically eaten in Israel around Hanukkah. Instead of filling his with the traditional jelly or custard, Alon Shaya of Domenica dusts his version in a spice mix called baharat, then serves them alongside a hot fudge dipping sauce. The baharat spice adds a bit of warmth to these classic holiday confections that you may find yourself wanting to make all year round.
To make the baharat-spiced sugar
Combine all ingredients in a medium-sized bowl, and mix until well blended. Set aside.
To make the sufganiyot
Stir together milk and yeast in the bottom of a mixer bowl and allow it to sit for 10 minutes.
Add all other dough ingredients to the bowl. Using a dough hook, bring ingredients together on low speed. Once ingredients are combined, mix on medium-low speed until a smooth, elastic dough forms (about 7-10 minutes). Do not turn the mixer up higher than medium-low (4/10) or the dough will likely get overworked and begin to break down.
Spray the bottom of a large bowl with nonstick spray. Place the dough inside once it's ready and cover the bowl with a damp kitchen towel. Set the bowl in a warm part of the kitchen for 45 minutes. Remove the dough and gently stretch it and fold it over itself 3 times, pressing to expel any gases accumulated during the rise. Place the dough back in the greased bowl. Cover and allow to rise for an additional 45 minutes.
To make the hot fudge
While dough is rising, prepare the hot fudge. Melt chocolate in a double boiler or in the microwave (we recommend starting at 50% power for 90 seconds at the most, then stir, and repeat in 30 second intervals until chocolate is fully melted).
Stir all other fudge ingredients together in a medium-sized saucepan and bring to a boil. Once boiling, stir in the melted chocolate.
Continue to boil for 7-8 minutes until thickened. Set aside while frying the donuts. (Note: hot fudge will thicken as it cools, but for thicker texture while serving hot, boil for 2-3 extra minutes.)
TO FRY THE SUFGANIYOT
When dough is close to completing its second rise, pour enough oil into a 6-quart Dutch oven or heavy-bottomed pot until it reaches a depth of 3 inches. Heat the oil until a deep-fry or candy thermometer reads 375F, then lower burner heat until it is just high enough to hold that temperature (adjust heat as needed while frying to maintain 375F).
Place risen dough on a lightly-floured work surface. Roll dough out to 1/4 to 1/2 inch-thick and cut out circles using a 2-inch round cutter. Place the rounds on a parchment-lined baking sheet; cover with a damp kitchen towel or paper towel and let sit for 15 minutes while oil continues to heat.
Once oil is at temp and dough has rested, fry the doughnuts in several batches until golden brown on both sides, 2 to 3 minutes per side. Remove the doughnuts from the oil using a slotted spoon, drain briefly on a cooling rack over paper towels, then toss with the baharat-spiced sugar (or cinnamon and sugar if using) while still warm.
Serve doughnuts warm with the fudge dipping sauce on the side (fudge can be reheated in its pot over low heat or in a microwave if needed).
Farm Team Tips
If you prefer a more classic cinnamon and sugar coating, combine 1 tablespoon of ground cinnamon with a 1/2 cup of sugar (taste and add extra sugar as desired for a more mild spice).
For experienced bakers, you can try to mix and knead this dough by hand, but please be aware because it is enriched, it is quite sticky starting out and will take much longer than a plain bread dough to fully develop by hand.