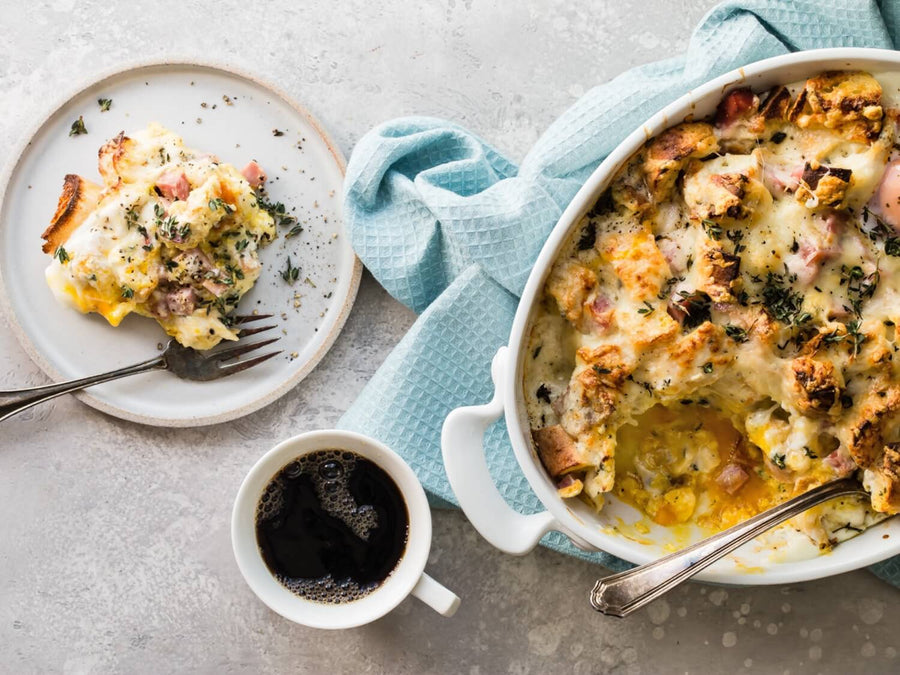 Whether you're decorating eggs, attending a spiritual service, taking time to plant spring flowers in your garden, or hosting an Easter egg hunt, these recipes will make your Easter entertaining a breeze.
Easter morning can mean something different for every family, whether that be a time for quiet reflection or an action-packed day of celebration. So classics like quiche are logical, but small bites, hefty casseroles, and even deviled eggs can also help do the work of keeping your family and friends satisfied throughout the day. Whether you're attending church, decorating eggs, taking time to plant spring flowers in your garden, or hosting an Easter egg hunt, these recipes will make your Easter entertaining a breeze.
Feeling like your cousins, newphews, nieces, and other young family members have taken your home by storm? We've got you covered with these bite-size hash brown baskets. They're full of the classic cheese, sausage, and egg combo that kids love, and are just filling enough to fuel an egg hunt or keep your little guests happy leading up to Easter dinner.
Thanks to their shareability, pizzas and flatbreads are a great choice for large groups. Using store-bought dough is an easy shortcut to churning out a couple of these breakfast pizzas in under an hour, and loved ones of all ages will undoubtedly be clamoring for a slice.
Thanks to this speedy finger food recipe, you won't need any Easter miracles to transform your leftover hard-boiled eggs into an appetizer your family will devour in minutes. While a scoop of curry powder and chili flakes bring unmatched warmth to the creamy filling, convenient wonton wrappers offer a satisfying crunch and delightful contrast of flavors and textures.
Why stress yourself out trying to pinpoint the perfect crowd-friendly flavor when you could serve three that are sure to satisfy all your Easter guests? These hard-boiled eggwiches come in caprese, Cuban, and banh mi variations, plus any other delicious combinations you can dream up.
This casserole has all the elements of the sandwich version - yolky goodness, crusty French bread, melty Gruyère, salty ham, and silky béchamel sauce - with the added bonus of being much easier to share. It's a celebration of the unrivaled flavors of breakfast and a reminder that good company and delicious food make holiday traditions even more special.
These bites are the definition of versatile: they can be served morning, noon, or night, and they're the perfect hors d'oeuvre for your Easter gathering, whether your guests are donning their Sunday best or staying laid back and casual. In the spirit of spring, they're topped with tangy pickled onions to compliment the brisk and inviting breeze of late April.
Our favorite way to dye Easter eggs naturally is with red beet juice. It makes for a gorgeous earthy purple tone that compliments the soft brown hue of the egg shells beautifully. But did you know that you can use the same method to pickle your hard-boiled eggs? With the extra beets that you have on hand, whip up a stunning batch of magenta-stained deviled eggs for your Easter guests.
Getting your entire extended family into one room is no easy task, which makes Easter a rare and opportune occasion to enjoy a truly memorable meal with all your loved ones. Though it may sound complicated, every element of this recipe for eggs Benedict on crispy potato pancakes can be made in large batches and assembled before serving.
This bright spring salad is a great accompaniment to your Easter feast, but also makes for a simple, light lunch in a pinch. Lemon vinaigrette is the perfect candidate for dressing the shaved asparagus, peas, radishes, sprouts, red potatoes, and jammy eggs.
Whether you're serving it on rolls, crackers, or pickle slices, this dill pickle egg salad is a tried and true crowd pleaser. If you're in a warmer climate and have a thriving dill plant this time of year, a few sprigs will make a huge difference. And if pickled eggs are an Easter tradition at your house, this is the recipe for you.
We jump on any opportunity to drizzle our breakfast in hollandaise sauce, and now's your chance to do the same. This eggs Benedict bread pudding turns a quintessential French dish into something a little more accessible and crowd-friendly, so if you're feeding a large family on Sunday morning, you can spend less time juggling those poached eggs and English muffins.
Lighter fare can still be hearty and filling: just try this Italian frittata. Easter is the perfect day to pull this recipe from your collection because it's the prime time for harvesting asparagus, the star of the dish. If you have family visiting for the holiday, this vegetarian meal is sure to please anyone with dietary restrictions; nearly every ingredient is a whole, unprocessed food.
For lighter fare that's paleo, low carb, and keto-friendly, look no further than these lip-smacking pesto deviled eggs. Your Easter guests will appreciate having an option that's clean and free from refined sugar. Simply put, this is a finger food that everyone can feel good about.