Ingredients
2 tablespoons unsalted butter
1 medium Yukon Gold potato, peeled or unpeeled, diced
Truffle salt
Freshly cracked black pepper
5 large Pete & Gerry's eggs
Pinch of kosher salt
2 ounces freshly grated white cheddar cheese
2 scallions, thinly sliced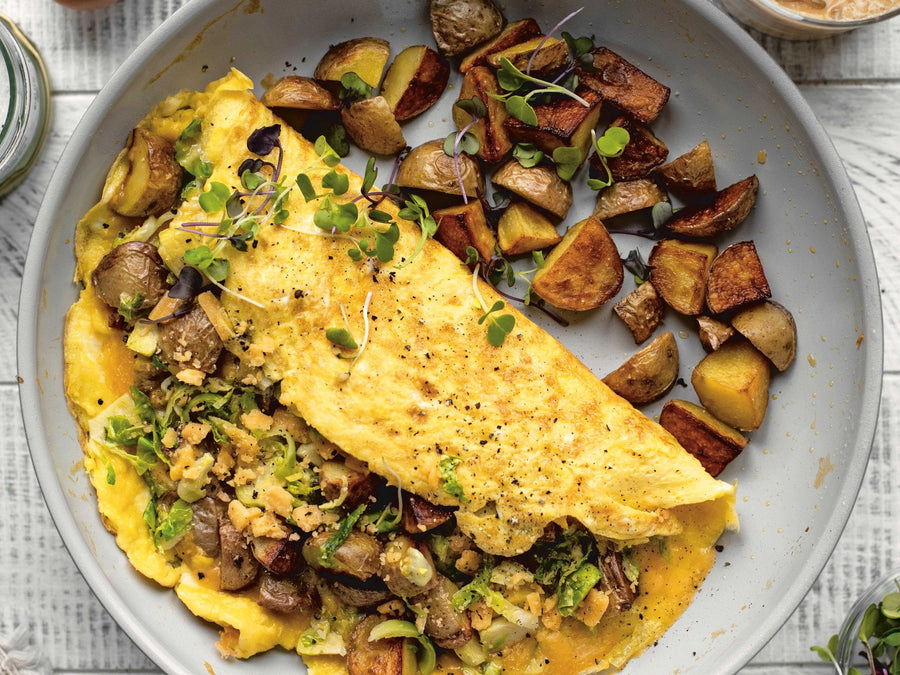 Prep Time: 5 minutes
Cook Time: 20 minutes
Yield: 2 servings
Prep Time: 5 minutes
Cook Time: 20 minutes
Yield: 2 servings
Ingredients
2 tablespoons unsalted butter
1 medium Yukon Gold potato, peeled or unpeeled, diced
Truffle salt
Freshly cracked black pepper
5 large Pete & Gerry's eggs
Pinch of kosher salt
2 ounces freshly grated white cheddar cheese
2 scallions, thinly sliced
From the recipe author: This is the ultimate egg breakfast, complete with crispy fried potatoes that are sprinkled with truffle salt for some extra umami. Of course, when left to your own devices you can throw whatever you like in your omelet. Make it a clean-out-the-fridge meal and add vegetables or different cheeses. The key is to fold the crispy potatoes directly inside the omelet. This way you get a bite of crispy potato with cheesy egg all at once and it's such a lovely flavor explosion.
Directions
Heat a large nonstick skillet over medium heat and add 1 tablespoon of the butter. Add in the diced potatoes and toss to coat. Add a pinch of the truffle salt and pepper. Cook, tossing occasionally, until the potatoes are crispy, about 10 minutes. Taste one and if you'd like more truffle salt, add it! Transfer the potatoes to a plate.
In a bowl, whisk together the eggs, 2 tablespoons water, and a pinch of kosher salt and pepper.
Using the same skillet, melt the remaining tablespoon of butter over medium-low heat. Once melted, pour the eggs into the skillet. Quickly move a spatula through them to slightly scramble, then let them sit without stirring - occasionally lifting up the edges to let any uncooked egg run into the cracks - for 2 to 3 minutes, until they're set in the center.
Once the center of the omelet is set, sprinkle in the cheese. Add the potatoes in the center along with a sprinkling of scallions. Fold the omelet over. If desired, give it another sprinkle of truffle salt. Serve immediately.