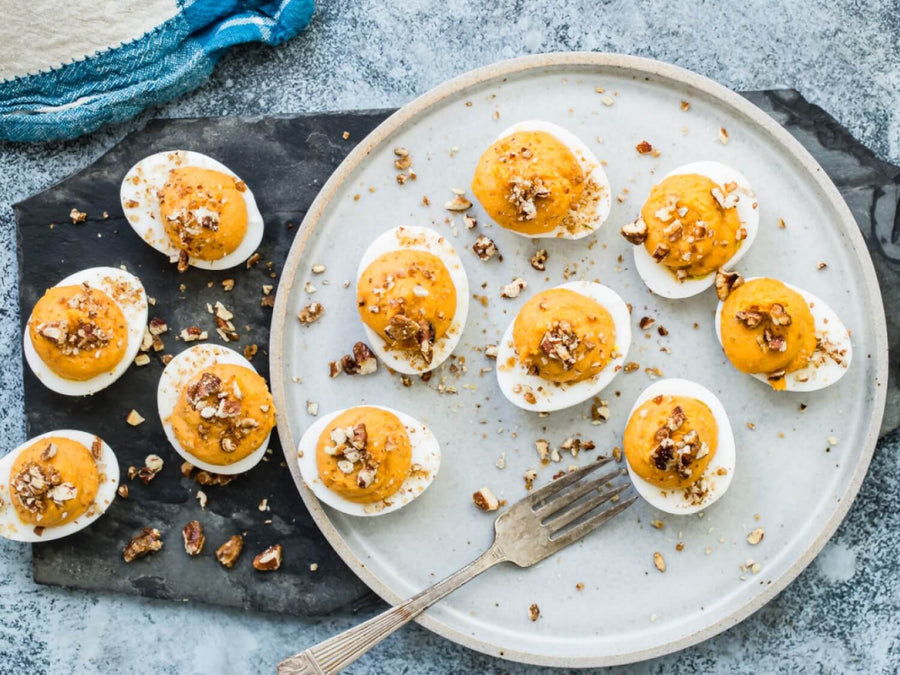 Hosting during the holidays is no easy feat. Entertaining requires patience and a plan—one that includes enough snacks, finger foods, and pre-feast appetizers to keep the crowd satisfied and the stress at bay. Here are our favorite crowd-pleasing bites.
No matter how many times you've invited the in-laws, cousins, grandparents, and long lost aunts and uncles into your home, hosting during the holidays is no easy feat for anyone. Entertaining requires love, patience, and a plan—one that includes enough snacks, finger foods, and pre-feast appetizers to keep the crowd satisfied and the stress at bay. Setting out a platter or two of these shareable bites is a surefire way to help whatever holiday you're celebrating with your guests go off without a hitch.
Dress up your egg salad in pickled red onion and bacon for an hors d'oeuvre that's elevated enough for a full-on holiday soirée. If you're entertaining a crowd, these egg salad bites are the way to go: each element can be made ahead of time, leaving you with only the work of assembling on the day of.
No cheese board is complete without crackers. These aren't just any crackers, though: they're made with all those quintessential fall and winter flavors you love, like pumpkin seeds and roasted hazelnuts. They also happen to be gluten-free and low-carb, so any guests with sensitivities or special diets won't have to miss out on the pure bliss that is a cranberry hazelnut crisp with a generous swipe of brie on top.
Ask anyone: the secret to entertaining is planning and preparing ahead, and thankfully, anything requiring hard-boiled eggs is the ultimate make-the-night-before appetizer. These deviled eggs marry luxuriously creamy egg yolks and sweet potato with candied pecans for an appetizer that'll have all your guests convinced that you spent hours prepping them.
A slighty sweet, slightly savory egg tart permeated with orange and honey is the ideal pre- or post-feast offering for your guests. There's no such thing as a perfect holiday party, and striving for one will drive you up the wall before your guests have even arrived. There is, however, a such thing as a well-balanced holiday party, and these egg tarts will help you achieve just that.
They have a reputation as a feel-good pub food for a reason. Scotch eggs are just plain fun to eat (whether by hand or with a fork and knife), and they look stunning when cut into. Delight your guests by serving a platter of them atop a simple green salad. Quartering your Scotch eggs will highlight those perfectly cooked golden yolks inside!
When you're entertaining extended family or the wide circle of friends you've accumulated over the years, including a showstopper in your food lineup is an ambitious task. These beet-pickled deviled eggs make that endeavor practically effortless; the brine does half the work, and the result is a dazzling display of magenta-stained egg halves that are as punchy and bright in flavor as they are in color.
Entertaining family during the height of holiday season usually includes spending a few mornings together. When you're feeding a horde of hungry kids eager to open presents or make their first snowmen of the season, cooking eggs and bacon to order simply isn't realistic. Instead, pop a few batches of hash brown baskets in the oven. They're filled with everyone's favorite breakfast foods nestled into crispy, cheesy potato cups.
If your holiday celebration is as much about comfort as it is about the actual holiday, these egg rolls are the perfect appetizer for you. Loaded with breakfast favorites like sausage, cheddar, bacon, scrambled eggs, and shredded potato stuffed inside a golden wrapper, they offer as much over-the-top comfort food flavor as they do crispy satisfaction.
You know you've nailed your holiday entertaining menu when every single guest asks you for the recipe. That's a near guarantee with these Asiago gougéres. Light, airy and deliciously cheesy, they'll be the most popular appetizer at your table.
When it's difficult to predict which flavors your guests will crave most, the safest bet is to offer a little something for everyone. These appetizer eggwiches do just that by boasting three different filling options - caprese, Cuban, and banh mi - all stuffed between hard-boiled eggs for true crowd-pleasing perfection.
Cocktail meatballs are an obvious choice for any party host, and introducing a kick of flavor will help set yours apart. This recipe calls for Thai flavors and fixings like jalapeño, garlic, ginger, and lime, which make the pork and zuccini mixture irresistably salty, sweet, and spicy—nothing like your average meatball.
Prove to your guests that the classics are worth revisiting, one mini cheese and ham quiche at a time. These adorable bites of custardy filling and flaky pie crust will win hearts instantly! Pro entertaining tip: miniatures don't require any utensils, which means less cleanup for you.
This remixed egg salad packs enough flavor to satisfy all your guests. Roasted beets add a deep, earthy flavor, while a quick olive oil and balsamic vinaigrette brings out natural sweetness and plays off of the creaminess of those chopped eggs. Cater to a number of tastes and preferences by serving it all inside lettuce cups and atop toasted baguette.
Looking for a quick and easy appetizer that doesn't skimp on flavor? Grab some wasabi and give these Chinese deviled eggs a go. With only seven ingredients that are perfectly chosen for richness, acidity, and crunch, they'll have you and your guests happily snacking in no time.