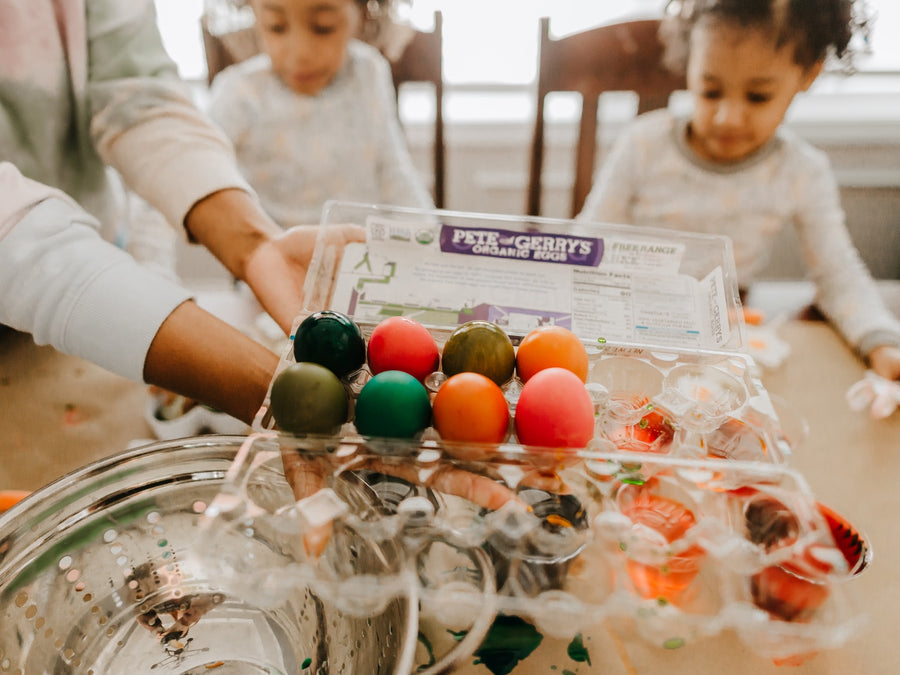 Whether you have little ones at home or your kids are already grown, it's never too late to start new family traditions on holidays that hold a special place in your heart and your home. No matter how you celebrate Easter, we can all agree that it's one of the funnest holidays for families all over the country: spring is in the air, the sun shines for more hours of the day, and if you're lucky, you can hear the birds singing their springtime song in the morning. It's the perfect time to gather with your loved ones and make memories dyeing eggs, hunting for Easter eggs in the backyard, enjoying a special Easter brunch together, or all of the above.
Easter traditions
I am so excited to share one of my family's most favorite Easter traditions: egg dyeing! So many things have changed over the last year. As a community, we are all working hard to find ways to modify and be flexible with our lives, tweaking our traditions and making it work however we can. Thankfully, this is one family tradition that hasn't had to change much at all. I still remember egg dyeing with my parents when I was younger. As a matter of fact, the smell of egg dye and vinegar immediately reminds me of my mama. Isn't it fun how a smell or something as simple as the sound of dye tabs dissolving can take you back to your childhood? I can only pray that my kiddos hold memories so close to their hearts.
How to dye brown eggs for Easter
I always look forward to setting up our little at home egg dyeing party every year. I like to turn up the fun with a colorful DIY balloon garland in our dining room, which instantly elevates the space and can last for weeks, bringing color and excitement to every meal we enjoy together in that room. We leave ours up for the entire season. I always try to remember to roll out a sheet of craft paper on the dining table. When you have littles, there will inevitably be spills, and this helps contain the mess. Plus, when everything is over, cleanup is a breeze!
To make dyed Easter eggs, I usually boil an entire dozen of our favorite Pete & Gerry's Eggs. I always add a bit of salt to the water to help make the shells peel easier. Once they're done, I let them dry and cool off before bringing them over to the dining table. Mom hack: we all know that Easter morning can be busy, so do your future self a favor and boil the eggs the night before, then store them in the fridge until you're ready to dye them the next day.
Although natural dyes can be absolutely beautiful on brown eggs, my family likes to use the more traditional gel based egg dyes to achieve those bright, intense tones that I remember from my childhood. I use water to dilute all four colors (most kits come with red, yellow, blue, and green) to two different intensities each, which creates a natural variation in color from egg to egg. What I love most about dyeing Pete & Gerry's Eggs is that the brown shells are the perfect base for jewel toned Easter eggs. I personally think they're just so much prettier and more unique than those classic pastels you typically get with white eggs!
How to create an Easter themed treat board
While we wait for the eggs to take on their colors, my family likes to chat and snack on a fun Easter themed treat board. This year, I even found a bunny-shaped silicone mold for the ice cubes in our lemonade! It's those little details that I love the most. I added bunny-shaped cheddar crackers, some orange slices, and of course, a handful of carrots. Bunny-, butterfly-, and flower-shaped cookie cutters always come in handy for turning slices of cheese into fun shapes.
Once we finish snacking, it's time to check out our Easter eggs! They always turn out even more gorgeous than we could have imagined. I love letting them dry right back in the Pete & Gerry's carton where we can store them in the fridge to admire and snack on throughout the upcoming week.
Happy Easter! I wish you the happiest egg dyeing memory making with your loved ones.
Shakira Patterson is the motherhood lifestyle blogger, serial holiday celebrator, and party enthusiast behind OccasionsByShakira.com, a resource and inspirational space for parents. Shakira currently lives in the Fort Bragg area of North Carolina with her active duty military husband, two daughters Raegan and Zarie, and her son Xander. Her passions include travel, Disney, and finding ways to turn up the magic on everyday occasions, always with the goal of making intentional and special memories as a family.